Just call me Miss Piggy. This is my third and final project for
Lindsay's
Five Dollar Challenge. She did say we could do as many as we wanted, right? Maybe I got a little carried away...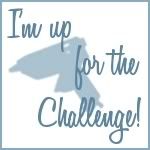 During my Dollar Tree shopping extravaganza, I picked up a colorful matchstick placemat, a pillar candle, a glass cylinder vase and some foam gripper pads. I only spent $4 for the $5 challenge, so I'm not sure if that's grounds for disqualification.
I know this post was long, but if you made it to the end, thanks for sticking with me! (No pun intended.) Merci,
Lindsay
for hosting this fun challenge!