This is my second project for Lindsay's Five Dollar Challenge. Please visit her and the other participants to see all of the great, budget friendly ideas!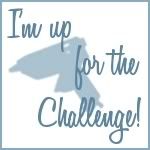 It seems like everyone is covering everything in twine these days, so I jumped on the bandwagon, too. I won't say that this idea is very original, but it's so cute and easy!
I guess this is technically a $2 challenge (since I'm using a leftover pot from
another challenge project
), but I suppose I could have purchased more pots/twine/candles to total $5. All of these items came from Dollar Tree.
I started by hot gluing the end of the twine to the side of the pot at the bottom.
Then I tightly wrapped the twine around the pot.
When I got to the lip of the top of the pot, I added some more glue so the twine wouldn't slip off the rim.
After the pot was covered, I glued down the end of the twine and tucked it in so it would not be as noticeable.
(I feel a little "like duh" giving this disclaimer but I feel it's necessary!) *VERY IMPORTANT* Twine CAN and WILL catch on fire! Be sure to cut off all of the loose fibers that will be around the top of the pot so it doesn't catch on fire if you use this as a tealight! And do not leave lit candles unattended!
Ok, I feel better.
Yes, I need to follow my own advice and snip around the top of mine. But don't these make the cutest little tealights? These would look great with a country farmhouse look or a beach theme. I have tons of twine left over so now I need to find something else to wrap!
Thanks for stopping by! Again, muchas gracias,
Lindsay
for hosting the Five Dollar Challenge!