If you've read my blog before (chances are you haven't), you know that I'm new to this. I didn't start reading home decor blogs until late last year (I know...I know...been missing out)! When I did discover them, however,
Living With Lindsay
quickly became one of my favorites. I later found out that Lindsay is friends with my best friend in TX! What a small world! She encouraged me to start a blog, so I did. And of course I had to participate in her Five Dollar Challenge!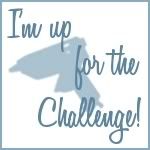 At first, I was overwhelmed with the task of creating something with only $5 of supplies from the dollar store. But when I looked around Dollar Tree, I got all kinds of ideas. Once I started, I couldn't stop! (I hope I'm not being a challenge hog!)
These spring topiaries are first in a series of three crafts.
I bought a package of floral foam blocks, floral moss, mini terra cotta pots and two yellow/white bead ball thingies from Dollar Tree. I rooted through the woods behind our house to find two sticks of similar size. Don't tell him, but I "borrowed" some of my oldest son's paint and paint brush.
First, I lightly brushed some white paint onto the pots. I rubbed them with a paper towel before they were dry to give them an aged look.
Next, I cut blocks of foam down to fit inside the pots.
I made sure the foam was tight so the topiaries wouldn't wobble.
I snipped the ribbon off of the balls. Exactly what these balls are intended for, I'm not sure, but they make really cute topiary toppers!
I shoved the free backyard sticks into the balls and then hot glued the sticks into the foam.
I wanted to make sure the topiaries wouldn't fall out!
To finish, I covered the foam with moss and hot glued the scrap ribbon to the pots. Voila! Two spring topiaries for $5! I think these would be super cute on a spring dining table as decorations or place card holders.
Thanks for stopping by. Also, many thanks to
Lindsay
for hosting the Five Dollar Challenge!